Finance > Banking

Investment in India - Banking System
Introduction
The Reserve Bank of India (RBI) is India's central bank. Though the banking industry is currently dominated by public sector banks, numerous private and foreign banks exist. India's government-owned banks dominate the market. Their performance has been mixed, with a few being consistently profitable. Several public sector banks are being restructured, and in some the government either already has or will reduce its ownership.
Private and foreign banks
The RBI has granted operating approval to a few privately owned domestic banks; of these many commenced banking business. Foreign banks operate more than 150 branches in India. The entry of foreign banks is based on reciprocity, economic and political bilateral relations. An inter-departmental committee approves applications for entry and expansion.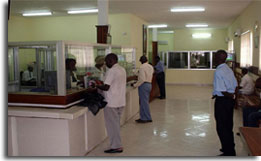 Capital adequacy norm
Foreign banks were required to achieve an 8 percent capital adequacy norm by March 1993, while Indian banks with overseas branches had until March 1995 to meet that target. All other banks had to do so by March 1996. The banking sector is to be used as a model for opening up of India's insurance sector to private domestic and foreign participants, while keeping the national insurance companies in operation.
Banking
India has an extensive banking network, in both urban and rural areas. All large Indian banks are nationalized, and all Indian financial institutions are in the public sector.
RBI banking
The Reserve Bank of India is the central banking institution. It is the sole authority for issuing bank notes and the supervisory body for banking operations in India . It supervises and administers exchange control and banking regulations, and administers the government's monetary policy. It is also responsible for granting licenses for new bank branches. 25 foreign banks operate in India with full banking licenses. Several licenses for private banks have been approved. Despite fairly broad banking coverage nationwide, the financial system remains inaccessible to the poorest people in India.
Indian banking system
The banking system has three tiers. These are the scheduled commercial banks; the regional rural banks which operate in rural areas not covered by the scheduled banks; and the cooperative and special purpose rural banks.
Scheduled and non scheduled banks
There are approximately 80 scheduled commercial banks, Indian and foreign; almost 200 regional rural banks; more than 350 central cooperative banks, 20 land development banks; and a number of primary agricultural credit societies. In terms of business, the public sector banks, namely the State Bank of India and the nationalized banks, dominate the banking sector.
Local financing
All sources of local financing are available to foreign-participation companies incorporated in India, regardless of the extent of foreign participation. Under foreign exchange regulations, foreigners and non-residents, including foreign companies, require the permission of the Reserve Bank of India to borrow from a person or company resident in India.
Regulations on foreign banks
Foreign banks in India are subject to the same regulations as scheduled banks. They are permitted to accept deposits and provide credit in accordance with the banking laws and RBI regulations. Currently about 25 foreign banks are licensed to operate in India. Foreign bank branches in India finance trade through their global networks.
RBI restrictions
The Reserve Bank of India lays down restrictions on bank lending and other activities with large companies. These restrictions, popularly known as "consortium guidelines" seem to have outlived their usefulness, because they hinder the availability of credit to the non-food sector and at the same time do not foster competition between banks.
Indian vs. Foreign banks
Most Indian banks are well behind foreign banks in the areas of customer funds transfer and clearing systems. They are hugely over-staffed and are unlikely to be able to compete with the new private banks that are now entering the market. While these new banks and foreign banks still face restrictions in their activities, they are well-capitalized, use modern equipment and attract high-caliber employees.
Government and RBI regulations
All commercial banks face stiff restrictions on the use of both their assets and liabilities. Forty percent of loans must be directed to "priority sectors" and the high liquidity ratio and cash reserve requirements severely limit the availability of deposits for lending. The RBI requires that domestic Indian banks make 40 percent of their loans at concessional rates to priority sectors' selected by the government. These sectors consist largely of agriculture, exporters, and small businesses. Since July 1993, foreign banks have been required to make 32 percent of their loans to these priority sector. Within the target of 32 percent, two sub-targets for loans to the small scale sector (minimum of 10 percent) and exports (minimum of 12 percent) have been fixed.
Foreign banks, however, are not required to open branches in rural areas, or to make loans to the agricultural sector. Commercial banks lent $ 8 billion in the Indian financial year (IFY, April-March) 1997/98, up sharply from $ 4.4 billion in the previous year.
The deployment of gross loans was as follows:
| | |
| --- | --- |
| 1997-98 (April-January) | percent |
| Gross Bank Loans | 100 |
| Food Procurement | 15.5 |
| Priority Sector | 31.6 |
| Industrial Loans | 29.4 |
| Loans to Trade | 0.07 |
| Other Loans | 23.43 |
Source: Government of India Economic Survey
Need to Ponder
Debates on India's slowdown focus on the manufacturing sector which is dangerously misleading: one of the biggest areas of worry about India's economic slowdown is being ignored - the systemic flaw of India's banking sector. Stories about the real health of Indian banks get less publicised because banks are still overwhelmingly owned, controlled and directed by the government, i.e., the Ministry of finance (MoF). Banks have no effective mouthpiece either.
Grey future
One more reason being the opacity of the The Reserve Bank of India. This does not mean a forecast of doom for the Indian banking sector the kind that has washed out south east Asia. And also not because Indian banks are healthy. We still have no clue about the real non-performing assets of financial institutions and banks. Many banks are now listed. That puts additional responsibility of sharing information. It is now clear that it was the financial sector that caused the sensational meltdown of some Asian nations. India is not Thailand, Indonesia and Korea. Borrowed investment in property in India is low and property prices have already fallen, letting out steam gently. Our micro-meltdown has already been happening.
Conclusion
Still, there are several other worries about the banking sector, mainly confusion over ownership and control. Sometime soon India will be forced to apply the norms of developed countries and many banks (including some of the biggest) will show very poor return ratios and dozens of banks will be bankrupt. When that happens the two popular reasons to defend bad banks will disappear. These are: one, to save face in the remote hope of that fortunes will revive' and two, some banks are too big to be allowed to fail, fearing social upheaval.