Finance > Phone Banking

Phone Banking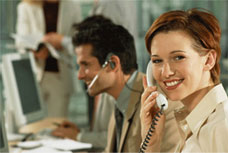 In today's extremely competitive banking environment, consumers demand convenience, personalization and a proven commitment to customer service. Telephone banking delivers on the promise of any time, any place access by instantly connecting your customers with their accounts and the information they want from any touch-tone phone. Enabling your customers to be "self-service" customers—ones who can obtain banking information and perform transactions according to their own schedules—meets the growing consumer demand of ultimate convenience and autonomy.
Features and Benefits
Check your account balance - Get up-to-the-second details of your Savings or Current Accounts and your Fixed Deposits. You can also get the details of the last 5 transactions on your account, or have a mini statement of last 9 transactions faxed across to you.
Enquire on the cheque status - You can use PhoneBanking to check on the status of cheques issued or deposited from anywhere in India.
Order a Cheque Book / Account Statement - Just call PhoneBanking and get your Cheque Book or latest Account Statement delivered at your doorstep.
Stop Payment - Stop payment of a single cheque or a series of cheques, 24 hours a day.
Loan Related queries - Get details of the outstanding loan amount, enquire about your loan account, request for an interest certificate and repayment schedule, etc. Just call PhoneBanking in your city and dial 4 to speak to our PhoneBanker.
Open a Fixed deposit or Enquire on your Fixed deposits / TDS - Talk to our PhoneBanker to easily open a Fixed Deposit over the phone, by simply authorising a transfer of funds from your Savings Account.
Transfer Funds between accounts - You can also transfer money from one of your accounts to another. Both accounts must be linked to your Customer ID. You can transfer amounts upto Rs 1 Lac in a single day.
Pay your bills - Pay your cellular, telephone, electricity and HDFC Bank Credit Card bills through PhoneBanking using BillPay, a comprehensive bill payments solution. Know more about BillPay.
Report loss of your ATM / Debit Card / ForexPlus Card - If your ATM / Debit / ForexPlus Card is lost, call any PhoneBanking number to deactivate your card(s).
Learn about all our other products - Get details on HDFC Bank products & services by talking to our Phone Banker.
Enquire about latest Interest / Exchange rates - Get latest Interest rates on Deposits and Foreign Exchange rates by talking to our Phone Banker.
Request a Demand Draft / Manager's Cheque - Call PhoneBanking and get a Demand Draft / Manager's Cheque delivered to your doorstep.
Disadvantages
Some services cannot be accessed via the phone
Level of security may not be trusting to some customers
You cannot deposit physical cash using telephone banking i.e. cheques, cash in hand. This would require a personal visit to the bank.

Customer Id and TIN -The Customer ID Number and the Telephone Identification Number....